Since its introduction into the market, Windows 10 has attracted millions of users around the globe and many people have downloaded and installed the latest Microsoft's flagship operating system. So far, the reception has been somehow favorable even though the power of Windows 10, as well as its value to the user, largely depends on individual experience.
A significant number of Windows 10 computers usually access the Web through the use of a wireless adapter. However, the primary challenge in this is that wireless adapters usually results in many problems, especially if they were not configured appropriately. One typical issue that most users have experienced with wireless adapter is perhaps access point error notification. What's more frustrating than bad internet connection? If you didn't know, an individual survey conducted by Deloitte revealed that poor or slow internet connection is arguably the primary cause of employee frustration in the work environment. Unreliable internet connection not only causes web stress for large companies but smaller businesses as well.
If you are an individual who's currently experiencing problems with an access point, wireless router or wireless adapter, you are in the right place. Today in this post, we want to show you a number of possible ways to combat the whole issue. Peruse the article and enrich your knowledge.
How To Fix Problem with Wireless Adapter or Access Point on Windows 10
1. Install the latest drivers
It has been proven that outdated drivers are a common cause of this particular problem. This implies that for you to fix it, you'll have to install the latest driver versions. There are two possible ways to achieve this.
First, you can install the drivers using the CD which came with your wireless adapter. This is usually a decent option if you don't have an active internet connection. However, one major issue with this is that the drivers might not be the latest ones.
The second option involves visiting the official website of your network adapter's manufacturer, where you'll identify your device, download and install the latest available drivers.
2. Confirm if the password is correct
It is common knowledge that you should protect your Wi-Fi network with a robust password. The problem with this is that you are likely to forget the password when trying to create the internet connection. For you to solve the issue, you'll have to disconnect from the network, check the correct password before you connect again.
Some users have reported that in some rare cases their keyboards have entered different characters from the one originally intended, this can happen if you use different input languages on your PC, therefore be sure to double check your password before connecting.
3. Do away with your wireless profile
In some cases, you might have a corrupt Wi-Fi configuration profile and this might result in lots of errors, including wireless adapter issues. When this occurs, it is highly recommended that you either delete your wireless profile or forget it as well. To eliminate the wireless profile successfully follow the below procedure.
First, open command prompt as administrator. Hold the Windows Key plus X and open Power User Menu. After this, select Command Prompt (Administration).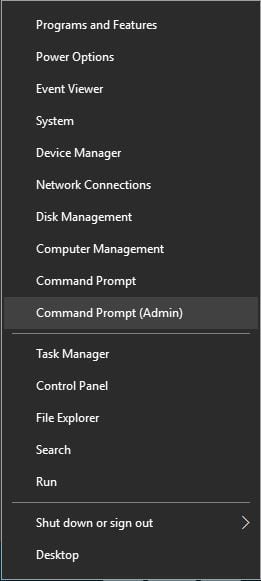 When the Command Prompt appears, key in netsh wlan delete profile name='WirelessProfileName' and press Enter. Just ensure that you've replaced the WirelessProfileName with the real name of your wireless connection.
Change the password as well as the name of your Wi-Fi connection.
You can equally solve your adapter connection problems by just changing your wireless network's password. It is typically a straightforward process that shouldn't give you any problem. However, if you are unsure of anything, just refer to your user manual for guidance.
4. Resetting your router
It is imperative to note that access point issues can also be solved by resetting your router. It is equally an easy task that only involves pressing the reset button on the router. You can also go to router settings and select the reset functionality. For additional information regarding how to export or reset the configuration of your router, kindly refer to your router's user manual.
5. Uninstall your antivirus software
Despite being an integral part of the safety of your computer, antivirus software programs can sometimes interfere with your wireless connections thus resulting in problems with your wireless adapter. This implies that you'll have to eliminate all the antivirus programs from your device. Even though it is widely believed that McAfee is often the common culprit, it is worth knowing that nearly every antivirus program can potentially cause problems with your wireless adapter.
See Also: 7 Best Modem Router Combo – Cable, Wireless or Wi-Fi
6. Is your wireless adapter enabled?
On numerous occasions, this particular problem happens when your wireless adapter is disabled. The installation of third party programs is perhaps the primary factor that can make your wireless adapter to be disabled. For you to examine if the network of your wireless adapter is disabled, follow the following procedure.
Hold the Windows Key plus X. An option will appear and select Device Manager. After that, go to your wireless adapter, double-click on it and open the properties. Locate driver tab and search for Enable button. If the enable button is not available, this is an indication that your wireless device is up and running.
7. Take advantage of the Command Prompt
Another decent option to solve your wireless adapter connection problems is to run particular commands from the command prompt. Follow the steps below to accomplish this task.
First, you'll have to start a command prompt as administrator. When the command prompt appears, key in the lines provided below:
• Netsh Winsock reset
• Netsh in tip reset
• ipconfig/release
• ipconfig/renew
• ipconfig/flushdns
By executing all these commands, you can now close the Command Prompt and see if the issue has disappeared.
The Bottom Line
Internet connection failure problems can be frustrating at times. If you are an individual currently experiencing internet connection issues with your access point, wireless  or wireless adapter on Windows 10, we have provided you with proven efficient and practical ways on how to combat the entire problem.
Sources and Citations:
How do I perform a factory reset on my NETGEAR router?
Resetting your router and changing the router admin password
Resetting your D-Link Router to the factory default settings