The importance of a GPS cannot be overemphasized whether you are a truck driver, a car driver, a biker, or even a hunter. They do a lot of things such as helping you find your way around, knowing the weather and traffic situation and helping you know some of the things that wait ahead of you such as sharp bends.
Among the most popular of these are the Garmin GPS devices which come with features and technology that are hard to compete with on the market. They are made by Garmin which is one of the biggest names when it comes to Global Positioning System (GPS) technology. The company is also a formidable force in the production of devices that come with navigation assistance for aviation, automotive, fitness, and outdoor markets.
Garmin Truck, Hunting, Motorcycle Navigation
You can find the Garmin GPS devices for almost everything from Trucks to motorcycle navigation and much more.
Truck Garmin GPS
For trucks, there are a good number of trucking-dedicated navigation systems that feature things like custom truck routing and road warnings. Among these systems are:
Garmin dēzl 780
For large truck drivers, this is a 7′ navigator that has free live services feeding you traffic and weather report in real-time when you have the Smartphone Link app installed on your phone.
Other features that this navigator has, include a built-in Wi-Fi to have your software and maps updated, voice control, smart notification, and Bluetooth hands-free calling among other things.
Garmin dēzlCam 785 LMT-S
This is an all-in-one 7″ navigator that has a custom routing system although it is not in all areas that this works. More so, it alerts you of events such as upcoming bridge heights and steep grades among other things. When you make use of the Smartphone Link app you can access free live services including traffic and weather report. Just like the Garmin dēzl 780, it also has voice command, hands-free calling, and built-in Wi-Fi so that even without your computer, you can update your software and get an up to date map.
Garmin dēzl 580 LMT-S
If you need a 5 inch GPS truck navigator, this is a good choice. It comes with a free live traffic and weather report feature using the free Smartphone Link app. Just like others, it has a customized truck routing, voice control, built-in Wi-Fi, and hands-free calling.
Note: It is important, however, to understand that there are some jurisdictions that either outrightly prohibit or regulate the use of some of these navigators.
Garmin Hunting GPS
For hunting, Garmin has Handheld GPS that can be carried around. These devices have detailed mapping and other features that a hunter would find very important.
Garmin GPSMAP 64st
This is one of the most popular GPS for hunting. It has features that include a sunlight-readable 2-inch coloured display, smart notification system, a dual battery system which makes it possible to either rely on the rechargeable battery pack which can last up to 16 hours or go for the traditional AA batteries.
More importantly, it has features that make it easy for you to locate your position rightly whether you are in the woods or somewhere else entirely. There is also an electronic compass to show where you are headed, just as you can use it to plan your trips using the BaseCamp software.
Garmin GPSMAP 64s Worldwide
This also has most of the features that you will get with the 6st, with a Worldwide Basemap preloaded map. The navigator has a 2.6inch sunlight-readable coloured screen, Smart Notification which allows you to receive text messages and emails, and it comes with a 1-year BirdsEye Satellite Imagery subscription.
Garmin Motorcycle Navigation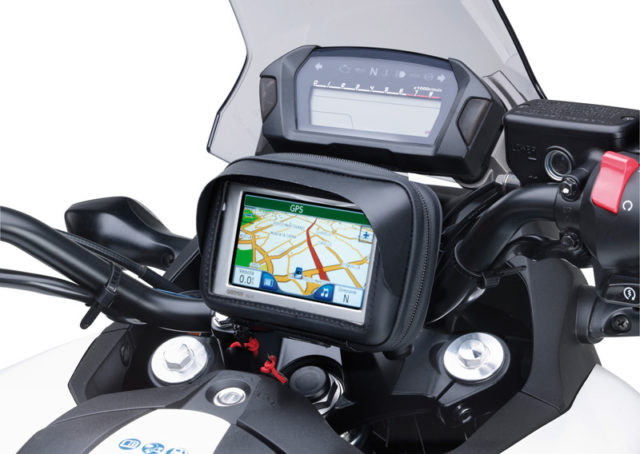 Garmin Motorcycle navigators are also very popular mostly because of their premium quality and the features they are designed with.
Garmin zūmo 595LM
This navigator comes with a 5-inch Glove-friendly and sunlight-readable display that is designed to withstand a very harsh weather. Taking advantage of the Garmin Adventurous Routing, you will find curvy and hilly roads with alerts for curves, speed cameras and more.
With a compatible smartphone, the hands-free calling feature is useful most especially as it also has the Smart notification with which you can customize things like calls, messages, and other alerts. The navigator has lifetime map updates, tire pressure monitoring features, and it is camera compatible.
Garmin zūmo 345LM
The motorbike navigator is also an intelligent piece like most others from Garmin, although it is not one of the most popular. It comes with a 4.3-inch touchscreen display which is designed to handle harsh weather.
It has preloaded maps, maps updates and other navigation features such as traffic compatibility in the automotive mount, displays for junction signs, speed limit indicators, and trip planner, trip log, tire pressure monitor system, and curvy roads routing.
Garmin zūmo 395LM
In the same way as the others, this comes with a glove-friendly and sunlight-readable screen that measures 4.3-inch. It also has similar features such as the rider alert system, Garmin Adventurous Routing, tire pressure monitoring, and other navigation tools.
How To Update
To manage and update the Garmin GPS, you will need to download and make use of the Garmin express which is a software program that you need to have downloaded to your computer. The program works with both Windows and Apple computers.
See Also: Mapquest Driving Directions, Route Planner, Mileage, and Gas Calculator
Even without the software, there are some Garmin GPS that comes with Wi-Fi so that even without having to use your computer, you can update them where they need to be updated. Here are the steps to update your Garmin GPS:
Download the Garmin Express software from the website and install it.
Before anything else, you will need to sign in to your Garmin account manually.
Connect your device and register it. You can add all the Garmin GPS devices you have on the app.
Select the device that you want to update and automatically, the application will search for available updates and notify you.
You can either select update all to have all the devices updated or select "View Details" to have details on the updates available. You can select what you want to update there. Do not disconnect your device when it is updating as that may damage it.
You will be notified when your update is completed to either eject it or continue with some other things.