If you're a gamer like me and you take your gaming seriously, then you already know the importance of space when you game – especially if you game on your laptop or desktop computer.
Not only do you need actual space for your keyboard, as well as a mouse, but also for the laptop or desktop tower. Add to that the space for your monitor, if you use a desktop.
Also, have you ever tried sitting on the floor, or gaming while standing? That might seem like fun for a few minutes, but if you're a serious gamer, then you would need a lot of time on. And let's face it, standing for hours while gaming is not so much fun, is it?
Choosing the best gaming desk for your PC gaming sessions is mostly about personal preferences, although ergonomics (health) also comes in as a consideration, because sitting for long in a wrong posture can adversely distress your health.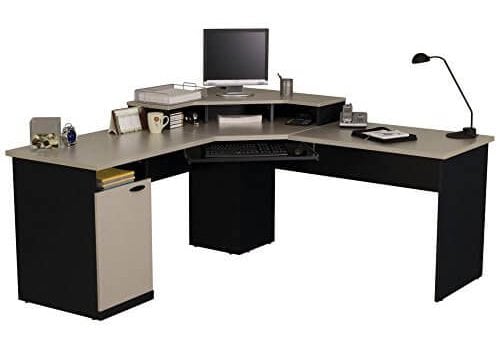 Every gaming desk in the market – and there are a whole lot of them, trust me – comes with a different set of features designed to meet a wide range of gaming needs. For this reason, finding the absolute best in the market would be an impossibility. However, some gaming desks have the very best combination of features that make them one of the best, based on the different needs they were designed to meet, apart from the simple need of serving as a surface on which to place your computer.
You Might Also Like: How to Choose a Motherboard – What To Consider
Also, we have to consider your budget, as it also plays a role on the kind of gaming desk you can get. That said, for every budget, there are those which offer the best of the available features for a gamer, than most others in the same price range.
I know you want a perfect product at an affordable price. Whether it's for personal gaming, or with friends, whether it's on a computer system of more than one screen, or just a workstation, whether you intend to game for a few minutes every other day, or are a hardcore marathon gamer, there are certain things to look out for when getting a new gaming desk.
HOW TO GET A GOOD GAMING DESK
So, how do we go about getting a good gaming desk, you ask? Great question. Like I mentioned earlier, there are several things to look out for, and no matter your budget, be sure to consider these factors.
Material and Structure
Gaming desks come in all manner of structures and are made from different materials. There are gaming desks of wood, as well as metal. Some others are made of PVC, glass, particle board, and different other materials, depending on the manufacturers, the market, the style, model and price.
Metallic gaming desks and those of solid wood are obviously the most durable, but they are much heavier to move or carry around.
Check Out Also: Best Wireless Adapter for Gaming, Desktop, Laptop – Best WiFi Cards
Space
This is a no-brainer, right?
I mean, one of the most important features of a gaming desk is the space it offers. Here, be sure to take into consideration, not just how many monitors you have and therefore how many space you need, but also the kind of space that the desks offer the monitors.
Also, pay attention to the space you have for the gaming desk. This should be obvious too, I think, as there's no use getting a large gaming desk, if you don't have a space in your office or home for it.
Accessibility options.
A lot of the good gaming desks come with small drawers, shelves, or cubby holes, where you can keep things like gaming pads, books, CDs, and even drinks, or hang stuff like face towels, handkerchiefs, and so on.
Weight Capacity
Most of the time, you might need just a desk on which to place some lightweight items like a single laptop, a keyboard, and other peripherals like a mouse, gamepads and so on.
However, if you intend to place heavier items on the gaming desk, you might need to consider the weight capacity of the desk as well.
How much weight do you intend to place on your new gaming desk? Are you going to be placing two heavy monitors on it, or just a single laptop? Are you going to be using a large Mac, or a small PC? Do you intend to have large speakers on the desk?
If you're going to be placing a lot of weight on the desk, then the desk needs to be sturdy, to have a great weight capacity, and to have a good structural support so as to adequately withstand such weight without crumbling under it.
See Also: Best Speaker for Echo Dot and Other Wireless Audio Devices
Desk Layout
One look at the different gaming desks on the market shows that these desks come in several shapes and sizes. For this reason, you might need to look at the layout of the desk to determine which one is best for you. Do you need a plain desk, or would you need things like speaker trays, slide-out keyboards holder, and or drawers?
Gaming, as a pastime, will always endure, although the modes and means of playing might evolve. However, one thing we cannot compromise is the health and comfort of the player (that's you!). Having the best desk at which to sit and play, is a good investment for any gamer, and if you're looking to get you a good gaming desk, having considered the aforementioned properties, you should already have a good idea of the best gaming desk for your needs.
Oh. You're welcome.
Sources: