If you've been an ardent fan of business and technology for a while, then chances are high that you have heard about CES and most recently, the CES 2019. In simple terms, CES refers to the world's meeting point for individuals who thrive on industry-based consumer technologies. Since its inauguration nearly five decades ago, CES has proven to be the ultimate breeding ground for amazing innovation as well as breakthrough technologies. It is often best described as the global platform where next-generation innovations and technologies are born! CES is arguably the leading advocate for innovation. According to its philosophy, every company, from startup companies to big multinational corporations has a voice in shaping our global vibrant industry.
So what is CES?
CES is an acronym for Consumer Electronics Show, which is an annual trade event held in January at the Las Vegas Convention Center in Las Vegas, United States. The show is organized by Consumer Technology Association and typically hosts presentations of new technologies as well as products specifically in the consumer electronics industry. Today, it is regarded as the single largest trade event in the United States and is the launching point of nearly twenty thousand new products annually. Thanks to the hype that surrounds this event, the attendance continues to increase and despite the fact that the trade event is not open to the public. Currently, CES showcases more than 3,950 exhibiting companies, including developers, providers, and manufacturers of tech-related content, hardware, technology delivery and more.
Bearing in mind that the show is owned, organized by the Association for Consumer Technology; the tech business union that represents the United States $290 billion technology consumer industry, it attracts global entrepreneurial kings as well as proven tech thinkers to a conference where most relevant industry issues are discussed. You have every reason to attend this show!
CES 2019 Dates and Schedule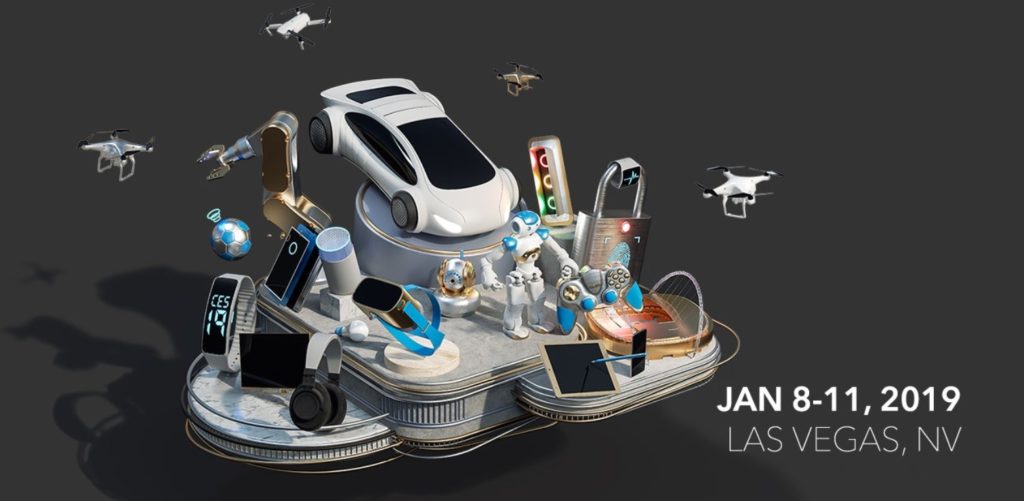 It is critical to note that CES features eleven official venues which span more than two and a half million net square feet of exhibit space. What's more, CES features twenty-four product categories and at least twenty Marketplaces. In a bid to enable members to easily navigate the venues, there are three distinct geographical locations: Tech South, Tech West as well as Tech East.
CES marketplaces are exclusive exhibit areas which group new technology markets and feature new awe-inspiring products, companies, and services. You'll have to tour the show floor and have a glimpse of emerging technologies ranging from smart homes to robotics and 3D printing! Below are CES 2019 Marketplaces:
Family and Kids Technology.
Fitness.
Resilient Technology.
Sleep Tech.
Wearables.
Enterprise.
Design and Source.
CES Sports Zone.
Baby Tech.
AI and Robotics.
3D Printing.
Accessibility.
Products.
Health and Wellness.
Eureka Park.
AR/VR and Gaming.
CES Smart Cities.
Drones.
Self-Driving Tech.
Tech East: Tech East comprises the Renaissance Las Vegas, Westgate Las Vegas, Las Vegas Convention, and World Trade Center. The activities carried out here include innovations in audio, augmented and virtual reality, virtual reality, wireless services, gaming, and digital photography. What's more, this is where you'll find most international exhibitions.
Tech West: The various venues here include Sands Expo, Wynn Las Vegas, The Venetian, the Palazzo as well as the Encore at Wynn.
Tech South: Includes Vdara, Park MGM/park Theater.
You are highly encouraged to visit the CES official website and download the various maps of these locations and familiarize yourself with them.
CES 2019 will begin on 8th Jan and will subsequently come to a halt on 11th Jan.
CES 2019 Exhibit hours:
7th Jan (Monday) Closed.
8th Jan (Tuesday) 10 am – 6 pm.
9th Jan (Wednesday) 10 am – 6 pm.
10th Jan (Thursday) 9 am – 4 pm.
Las Vegas 2019 Media days: Location – Mandalay Bay.
Sunday 6th Jan – Media day one.
Monday 7th Jan – Media day two.
Registration, Application, and Tickets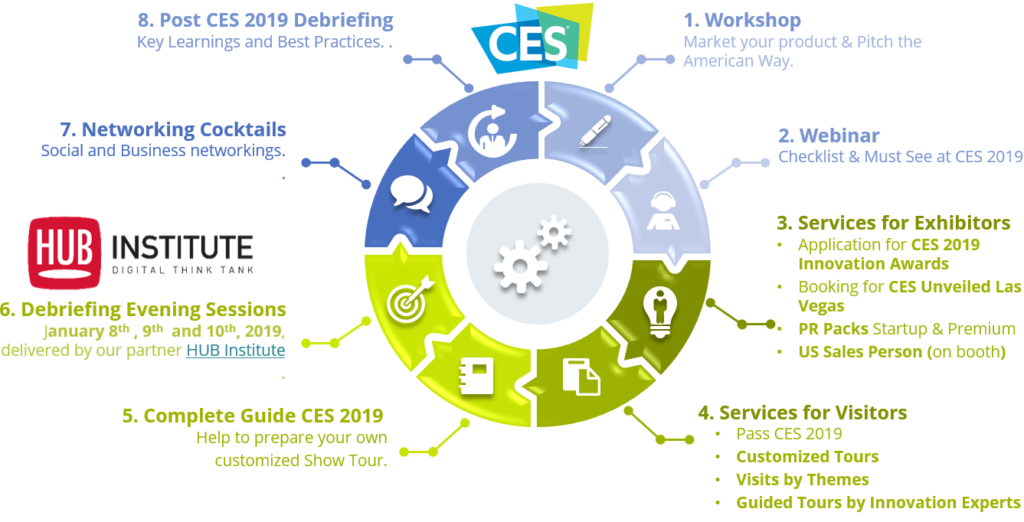 Do you want to become a member of CES? As an attendee, you'll have the opportunity to see the next generation of innovation. The registration is now open and you can now fulfill your dream of sitting in the same venue with industry leaders and visionary speakers across the globe at CES conference sessions. However, it should be noted that CES is a business trade for persons 18 years of age and above and affiliated with the consumer tech industry. It is not open to the general public and this implies that individuals under the age of eighteen will be denied access to the show. Equally, approval cannot be granted on-site!
To attend this trade show, you must submit your valid business credentials early enough so that CTA, the host of the show, can prove your affiliation with CES. As the owner and the sole producer of CES, the Technology Consumer Association has designated CompuSystems, Inc. as its only official registration vendor of 2019 CES. Of course, you should be aware of registration scams!
See Also: 7 Reasons You Should Attend TechCrunch Disrupt
Registration requirements include your date of birth, a unique email address, badge photo, business credentials as well as proof of industry affiliation. To complete your registration process, you'll have to part with $100. This price will increase to $300 on Dec 17th.
Other CES pricing:
• Starter conference pass: in this category, you'll pay $700. However, this will increase to $900 by De 17th. You'll have access to select show tracks showcasing various emerging trends. It is ideal for individuals looking to attend a few sessions.
• Deluxe conference pass: It costs $1,400 but will increase to $1,500 by Dec 17th. With this type of ticket, you'll have access to the full days of conference programming! It gives you the perfect opportunity to attend many sessions.
Other facts you need to know?
• With CTA membership, you'll save up to 25% on passes! By becoming a member, you will save twenty-five percent off on both the starter conference pass and deluxe conference passes. What's more, members will enjoy a complete access to member lounges with secluded meeting rooms, lots of seating and refreshments as well as an invitation to the member party organized by CTA!
• CES was inaugurated on June 24th, 1967, approximately 51 years ago. There were two hundred exhibitors and there were 17,500 attendees.
• In a move to celebrate the 2018 Electronics Consumer Show, a particular Las Vegas strip club introduced the public to their creations, which were arguably the world's first ever robotic strippers!
• Something to take into consideration is that you'll be going against over 100,000 people when it comes to things such as travel and accommodation! So plan early to have a hitch-free experience.