Soundbars have changed the way most people listen to music and watch movies in their homes. Their portability is arguably one of their best features but the fact that they don't take up as much space as other sound systems is also a fantastic advantage. Soundbars can provide the much-needed surround sound when watching a movie and get you immersed in every scene just by the sound they produce.
Soundbars have different designs and varying features depending on the manufacturer. However, most of them are easy to set up and can even be mounted on your wall depending on the size and design of your house. If it is not wall mountable, a soundbar can also be placed in front or under your TV. Soundbars also have different channels, and those with the most channels often have better surround sound effects.
Most soundbars are also in tune with the latest technological features spotting the latest Bluetooth and Wi-Fi technology. These features mean the soundbar does not connect to your TV alone, but also with devices that have Bluetooth features such as your smartphone or tablet. While the features might make soundbars expensive, there are others on the market that provide quality sound and are affordable.
See Also: Best Gaming Speakers: Top 8 PC Speaker Reviews
Here are the best soundbars under $100
MEGACRA Soundbar S11Pro Bluetooth 4.0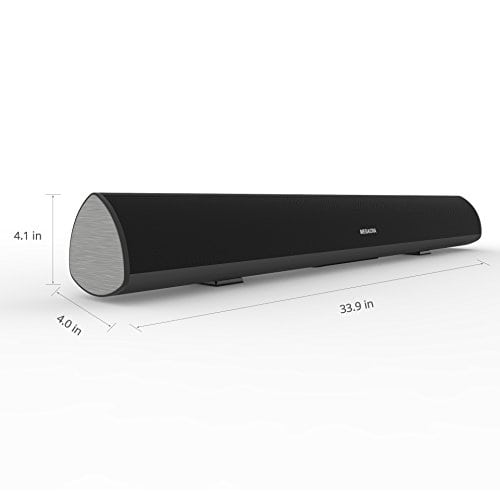 The Megacra S11Pro is a 2.0 channel soundbar with an exquisite design that can add beauty to your living room's décor. Aside from its design, this soundbar also has a broad range of features that help it rank among the best on the market. It features a 3.5mm audio cable, batteries, a power adapter and an AC cable for power, remote control, a manual, and a complimentary service card from the manufacturer.
Also, the Megacra S11Pro comes with mount brackets and a wall mounting template for easy installation. This soundbar produces fantastic stereo sound up to 100 dB and has six audio input options. These include the optical, line in, aux, coaxial, Bluetooth, and USB input. The Megacra S11Pro is compatible with TV, tablet, PSP, PC, and your mobile phone just to mention a few.
BOHM 60W BT 4.0 Connectivity 3 Audio Modes Soundbar with Bass Technology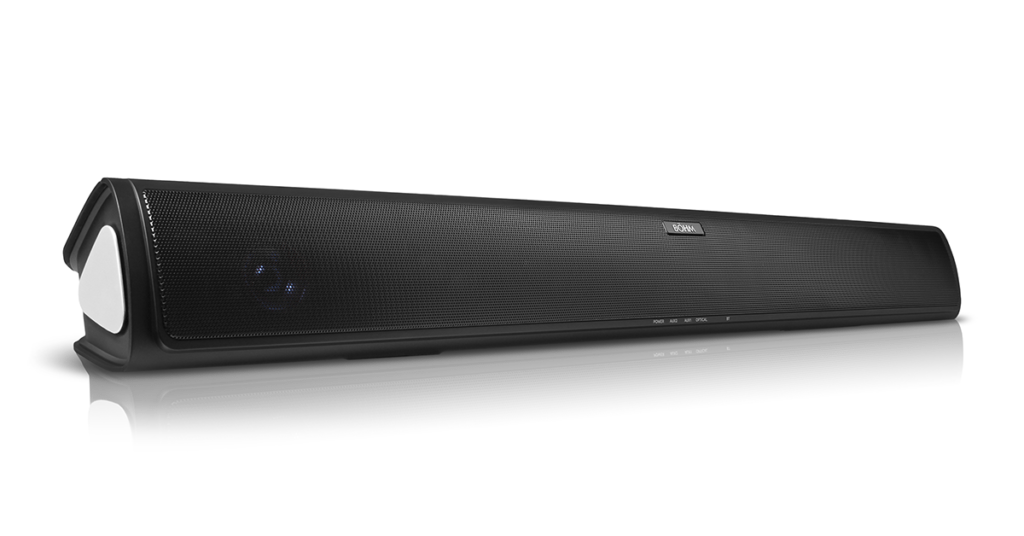 The Bohm soundbar might have fewer input options compared to most items on this list, but it makes up for that with bigger and better sound quality. The 31.5 inch soundbar comes with a 3.5mm cable, a remote, an optical cable, wall mounts, and a user manual. You can connect to the Bohm soundbar via Bluetooth, the optical audio cable or either of the two aux cable jacks on the sound system.
The Bohm soundbar also has three audio options to choose from namely, movie, night, and music. Whichever mode you choose, this soundbar guarantees a full and thick sound for your TV shows, favorite songs, games or film. By having Bluetooth 4.0 technology as one of its features, the Bohm soundbar can easily connect to almost all modern devices with the same features.
See Also: Cheap Computer Speakers – Budget PC Speakers
Sony HTCT60 2.1 Home Theater Soundbar

Sony has been in the sound system business for a long time, so it's only right to expect a quality product from the company. The Sony HTCT60 is among the best soundbars from Sony and features the latest technology for quality sound and easy connectivity. It channels virtual surround sound technology to bend sound across your living room providing the best 3D experience.
The Sony HTCT60 is also sold as a system featuring a subwoofer, a soundbar, and a remote control. The 2.1 channel sound system also has a low price and is among the few soundbars on the market that provide accurate and dynamic bass thanks to a 30W sub-woofer.
LuguLake T180 TV Soundbar Bluetooth Speaker 3D Surround
The Lugulake T180 is a 2.0 channel soundbar with a sleek design and a variety of features. Upon purchase, expect a soundbar, a remote control, two cables, and a user manual. Regarding connectivity, the Lugulake T180 has Bluetooth technology that helps it access any device within a ten-meter radius.
It also has RCA, an auxiliary port, and a subwoofer jack to further enhance connectivity. For someone with a room that is 15 square meters and above, the Lugulake T180 is your ideal soundbar. It not only improves your music experience but also has a low-frequency response for quality sound.
AmazonBasics 2.1 Channel Bluetooth Soundbar with Built-In Subwoofer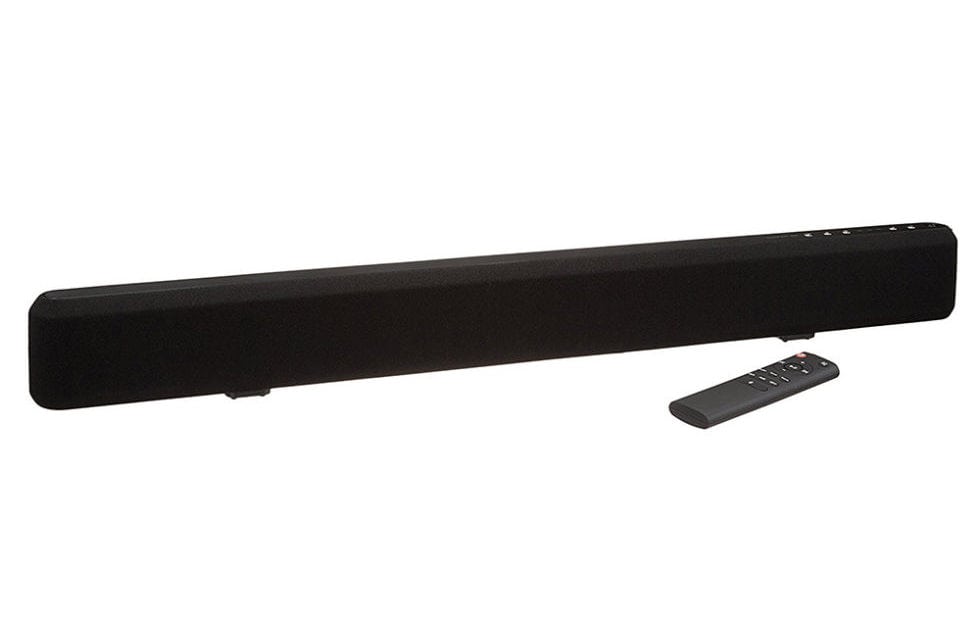 The AmazonBasics soundbar is a high quality 2.1 channel sound system with a built-in subwoofer and wall-to-wall audio capabilities. It delivers 100 dB of power and has three sound modes to choose from namely, standard mode, news mode, and movie mode.
This soundbar comes with a 3.5mm audio cable, a power adapter, cord, two batteries, a remote, a wall mount template, and an optical audio cable just to mention a few. Also, it features Bluetooth v2.1 technology for easy connectivity with your tablet, TV, mobile phone or any other device with the same technology.
Samsung HW-J250 80 Watt 2.2 Channel Audio Soundbar
Similar to Sony, Samsung is a company that has been on the forefront regarding technological inventions. The Samsung HW-J250 is one of these inventions and has endeared itself to many people due to its simple yet classic design and amazing features. The wall-mountable soundbar uses Bluetooth 2.1 technology for seamless connection with your device as well as a USB and auxiliary cable.
It also comes with a wall-mount kit, some screws, a remote control and its batteries, and an optical cable. While this soundbar can connect to a wide range of devices, it's most seamless connections with Samsung appliances such as a Samsung TV. Thanks to built-in subwoofers, the Samsung HW-J250 delivers rich bass and quality sound in general for music, movies, and gaming.
In Conclusion
The best soundbar is neither the one with the best design nor the one with the most features. Sometimes, sound quality also depends on the arrangement and size of your living room. Before purchasing a soundbar, while it is important to look at its features keenly and weigh its design's impact on your décor, it is also vital to consider where you intend to place it and the size of your living room.