Sometimes TV gaming is not just enough and you want the cinema experience. You want to have your characters large enough and still clear. The only thing that can help you out in such a scenario is getting yourself the best projector possible for gaming.
The problem of getting the best, however, comes down to the fact that there are many in the market to choose from. What this means is that you end up on a very thin line between getting an annoying projector and one that would give you that Hollywood blockbuster experience.
Various Options for Gaming Projectors
There are basically three different types of projector technologies that you could choose from for your gaming; LCD, LCoS, and DLP.
See Also: A Complete Review of Best Gaming PCs Under 1000 Dollars
LCD Projector
Known as the Liquid Crystal Display, this projector makes use of technology that is similar to those you find on most TVs. It has three liquid crystal panels that each work separately to provide the three primary colors; Red, Green, and Blue
This is the one that you should go for if what you need is a gaming projector that is great when it comes to brightness, color richness, and if you are disturbed by rainbow effect.
DLP Projector
Also referred to as digital light processing, this makes use of tiny mirrors that function to either turn the light on or off. Through the lights, the mirrors intelligently make sequential colouring possible. This is the one that is mostly used in movie theaters. If you are looking for one that does not give motion blur, this may be your best projector for gaming. It is also good when it comes to brightness.
LCoS Projector
Also known as liquid crystal on silicon, this comes in between the LCD and the DLP. It dominates many home theaters and turns out to be most especially good for those who are looking for a gaming projector that has very good picture quality as a result of its rich contrast ratio.
Also, it faithfully serves those who do not like much rainbow effect.
Best Projector for Gaming – LCD
Epson Home Cinema 5040UB 1080p Gaming Projector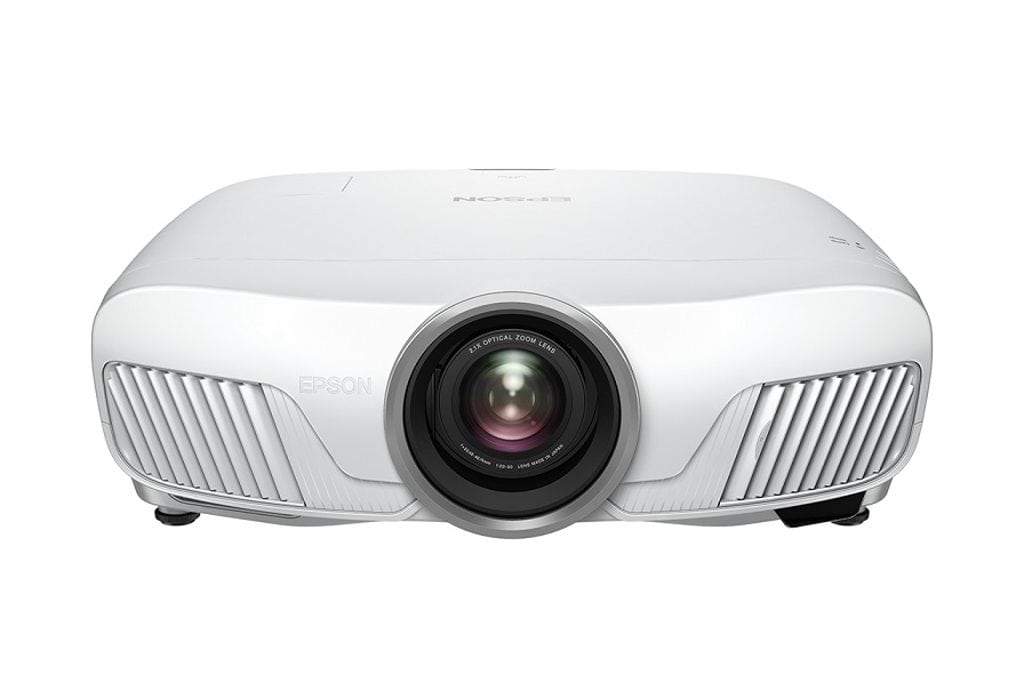 Designed with 2200 lumens white and color brightness, the Epson Home Cinema 5040UB 1080p is a projector that emphasises on clarity and sharpness of the picture. Also, because it comes with a three-chip LCD, it protects against rainbow effect during gaming or other things.
The piece comes as one that should serve massively for general home entertainment, and we didn't see it forgetting its duties.
It has a very good lag time which is further enhanced by its frame interpolation. With this technology, motion is extremely smooth whether it's in movies or games.
This innovative 3LD technology projector offers a Full HD 1080p resolution, you get to have a wide range of connectivity options. This includes using a digital camera, smartphone, laptop, and game console. What is more is that it is extremely easy to set up.
Finally, it comes with an internal audio source that plays very well in a small to medium sized room.
Pros
Great picture quality.
Comes with very good features.
Portable and good build.
Very valuable.
Cons
It doesn't come with 3D glasses
Verdict
Great for gaming, this should be the rabbit in your hat if you are looking for a gaming projector that will serve all your other home entertainment needs. It comes at a reasonable price.
Best Projector for Gaming – DLP
ViewSonic LightStream Pro7827HD Gaming Projector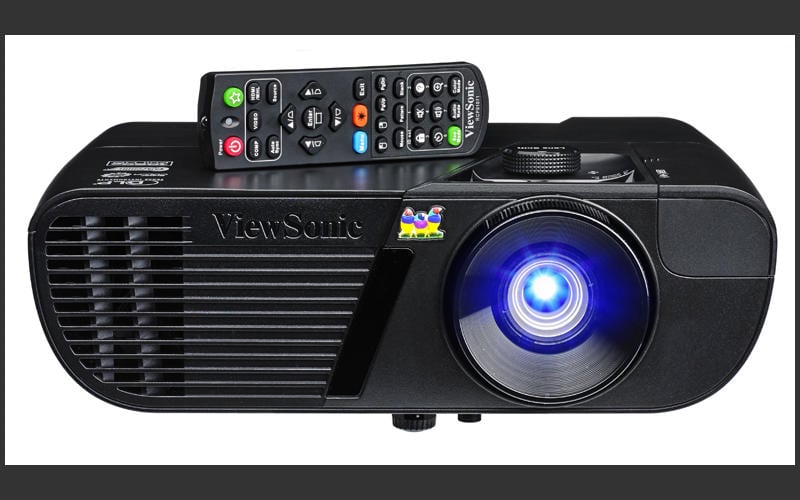 What ViewSonic designed this for, is to serve as a great projector for different things, but most especially sports.
That, of course, means that it should be very good with motion and avoid any form of blurring. It is so with the piece and that is what makes it great for gaming.
When it comes to picture quality, this outwits many other DLP projectors. While it has a great contrast, the black-level response is very good. Another great thing with the picture quality is that it hides off rainbow quality a lot better than usual.
Finally, noise and distortion are some of the things you are most likely to come by with projectors. Nevertheless, it doesn't affect this piece.
The one problem that you may get with this is that of noise. This is most especially if you set it to the dynamic mode. Still, that will not be overwhelming enough to spoil your gaming experience.
With the sound quality it reproduces, it is rather good, but a gaming speaker or headset would deliver a greater experience.
Pros
Great general picture quality
It is very affordable
Great for gaming, video, and presentations
Cons
A little noise in the Dynamic mode
The remote has no backlight.
Verdict
There are hardly many gaming projectors that would come as good in build and performance, and still be as affordable as the ViewSonic LightStream Pro7827HD. This should easily be the pick for someone looking for affordable and clean DPL gaming.
Best Projector for Gaming – LCOS
Sony VPLVW365ES 
There is something really special about this projector, and that is the fact that it is Sony's own version of LCOS which they decided to call SXRD (Silicon X-tal Reflective Display).
Coming to take over the place of the Sony VPL-HW40ES, the projector has an excellent look and a performance that is likewise great.
The projector offers Full HD resolution of 1920 X 1080 and 1,800 lumens brightness. More so, designed with Sony's SXRD panel, it has a reality creation technology which aims to give greater sharpness and colour precision.
It comes with a latency which makes it quick in rendering images, and that is one part of this that makes it good for gaming.
With the setup and controls, this is not the easiest you get on the list. Nevertheless, with a little familiarisation, it should be just like a second habit.
Pros
Great and clear images.
Reality creation technology.
Aesthetically on point.
Low latency.
Cons
Isn't the best when it comes to brightness.
Not the best when it comes to controls.
Verdict
Even though it is not one of the cheapest on the list, this projector has merited its place. With intelligent design and good performance, it should be the pick of any serious gamer thanks to its emphasised low latency.
Optoma HD142X Projector For Gaming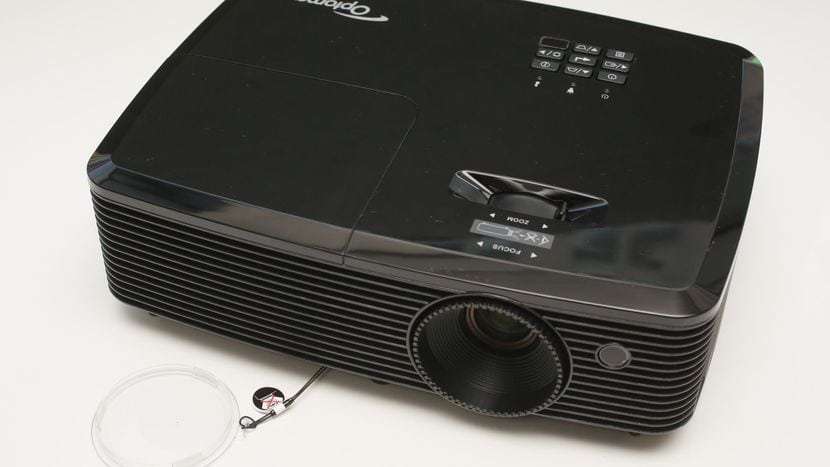 Among many people who know much about projectors, whether for gaming, movies, or just office presentations, the Optoma has always been a go-to piece.
Coming as a part of its HD line, the Optoma HD142X comes as one that is very great for gaming with a resolution of 1920×1080, the same as obtainable with most gaming features today.
Even though this has a decent lightning, we would recommend a little ambient lighting for better lighting. It has 3,000 lumens which shouldn't give anything less than high decent display.
Optoma designed the projector to be easily controlled with either the control put at the top of the projector or using a remote.
With 8000 hours strapped to its neck as the number of hours in use, the projector lamp light could last for up to 3 years.
Pros
It has very good quality
Decently affordable.
Cons
Doesn't come with many ports.
Verdict
This gaming projector is one that comes both cheap and with good performance whether you are needing it for gaming or other purposes.
BenQ W1210ST Projector For Gaming
We would prefer to call this the very masculine projector because it is designed to meet your gaming needs and at the same time, serve when you want to watch sports. This, however, doesn't mean it doesn't also perform when the call is on movies.
Thanks to its very good video and image quality, this makes your gaming larger than life in many ways. It has different modes based on brightness that can allow you have good gaming in both brightly lighted rooms and rooms that are less lighted.
Another thing you get here is reduced lag which will serve you rather greatly when you
With a detachable lens, the projector also has two HDMIs and a VGA port which are the most ports very much needed by gamers.
Another thing is that it comes with an internal speaker even though we didn't find to be the best there can be.
Pros
It comes with very good gaming features.
Has low input lag
The remote is very great.
Great for use even in a short distance as you will still get large image.
Cons
Considerably large.
Not the most noiseless
Verdict
For both gaming and sports, this is a piece that we found rather refreshing and greatly performing. It comes with features that would easily be appreciated by a gamer, hence there is no need why one shouldn't get this for your console.
Optoma GT1080 (DLP) Gaming Projector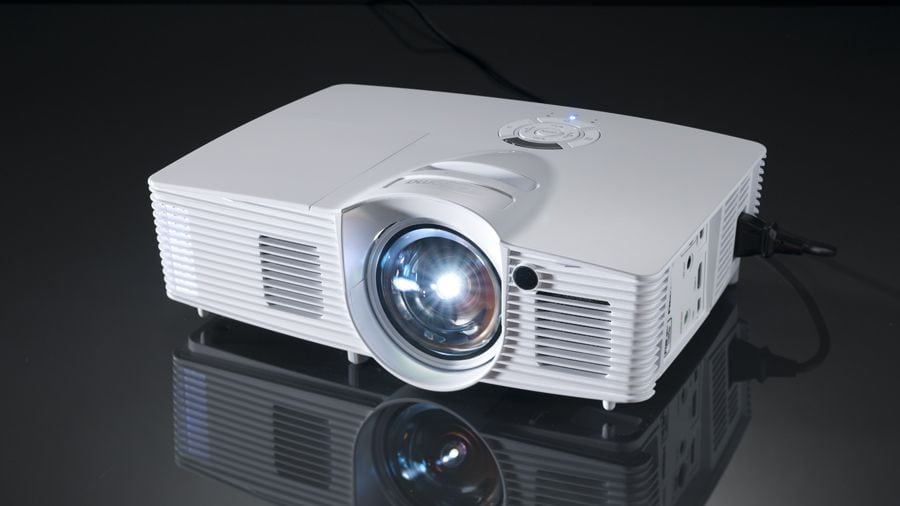 There are hardly many projectors designed specifically for gamers and gaming. Among the very few that are designed for that is the GT108.
Very small and portable as some other projectors from Optoma, this is beautifully built and highly performing.
For gaming, it takes care of most needs of gamers most especially as it comes with a refresh rate of 33ms. More than that, however, is that it beats others when looking at image and video quality hence it is the blockbuster piece for gaming. More or less.
Something of interest with this is that because of the 2800 ANSI lumens lamp it comes with, it is good for gaming whether the room is brightly or poorly lit.
There are in-built speakers to the projector, and we found them to easily be good in both sound quality and volume level. While this is so, getting a gaming speaker should serve much better if you require a better gaming experience.
Finally, even as this is mostly a gaming projector, it will not fail if you want to watch movies or other things. The little problem you may have in this aspect is that it doesn't come with zoom control.
Pros
The image and video quality is very good
Sleek, portable, and nicely built.
Good in-built speakers.
It is 3D Compatible
Cons
No zoom control.
A little pricey
Verdict
Because it is designed for gaming, this will ensure that you have a great experience whether you are playing much older games or newer consoles. It is a must have for someone looking to get a dedicated gaming projector that goes all the way.
BenQ HT2050 Projector For Gaming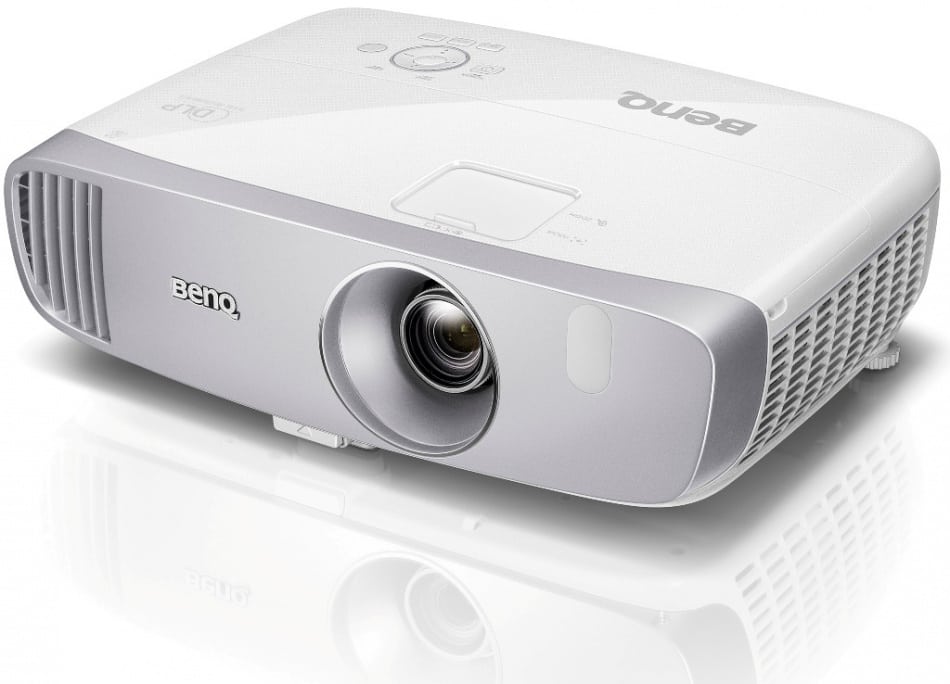 Much smaller than what you would get with others, the HT2050 is a very beautiful projector that is heavier than it looks in the same way it performs more than you would think.
Because this is a DLP projector, those who easily get affected by rainbow effects understand that it may not be the best for them. Nevertheless, unlike many other DPLs out there, the rainbow effect is little with this.
Most important is the image and video quality. For both movies and gaming, the video quality of this is very good even as it doesn't fail when you hit up to 3d. Another good point to keep in mind is that the noise you get with this is very little. Little enough not to be noticed most times.
For gaming, this has a very short lag time, meaning that you will get it great when you need to react in games.
If you need built in speakers, this comes with that. The speakers perform even better than one would expect. There is both balance and completeness to the audio quality even as the volume is generously loud.
Pros
The video and image quality is top notch.
It has no noise.
Cons
Not the brightest there is.
Verdict
We may not recommend this for someone who doesn't want the rainbow effect. Apart from that, this is a great DPL projector. Better than any other thing, what you get with the BenQ HT2050 are good image quality, brightness, and very good sound system.
Epson EX9200 Pro Wireless WUXGA 3LCD Gaming Projector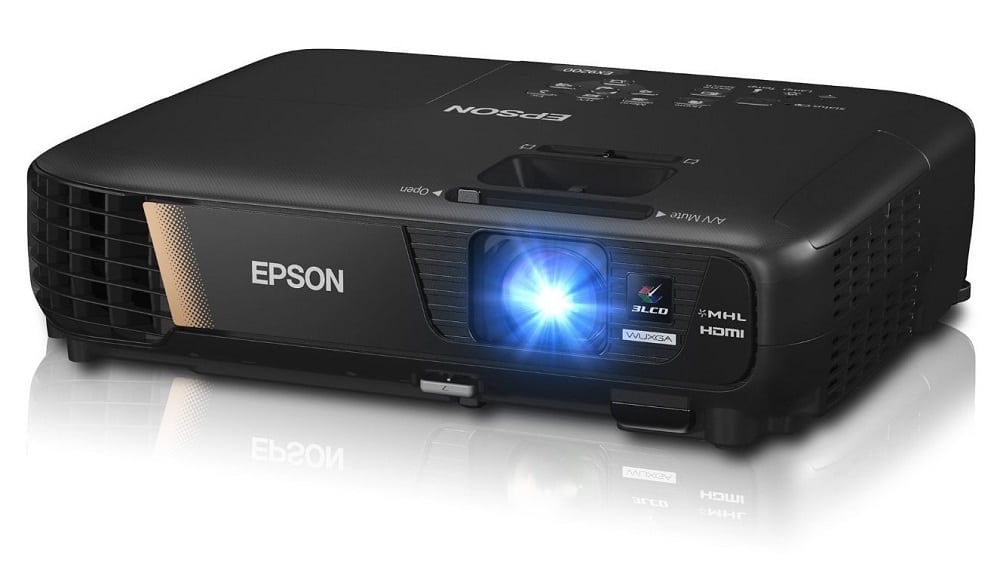 Another great LCD projector is the Epson EX9200 Pro which comes as a wireless piece. Even though at a glance this may not look like the projector to impress you, it actually pulls through in a great way.
With a three-chip design, it comes with a resolution of 1920 X 1,200) resolution which is really good. Also, even as it supplies very good image quality, on one hand, it ensures that you are free of all rainbow effects on another.
We must add that all the modes of the EX9200 give excellent video delivery. This is except for the Presentation mode. Here we found that it doesn't give the best contrast ratio.
To the audio output, it gives a very great audio quality and the volume is good enough for a small to medium sized room. The problem with this is that it may not serve someone who needs a loud volume as it doesn't come with an audio output.
Pros
Lightweight and easy to use
Very good image quality.
Since it is wireless, there is convenience.
Long lasting lamps.
Cons
Has no 3D support
No audio output.
Verdict
Under 6 pound, this is a piece that is light to carry, has good resolution and excellent image quality. For gaming, there is hardly any way that we can see this projector not giving you the best.
Conclusion
As stated, the line between getting a projector that could give you a larger than life gaming experience and one that could destroy your experience after taking away your money is very thin.
On our list, we have collected some of the best you can get in different categories. Although they would give you an all the way experience, they may not give you everything under the sun since there is no single projector that can do that.