Finding the best gaming motherboard for Intel Core i7 CPU is a crucial part of building a gaming PC. Building a gaming PC is the perfect way of ensuring that it will be able to handle everything you throw at it. One of the most critical parts of your build will be your CPU. And if you have chosen to use Intel's high-performance Core i7 CPU, then you need to match it with the correct motherboard. Read on for an overview of gaming motherboards as well as tips to enable you to create the perfect gaming setup.
Best Motherboard for Gaming For Intel Core i7 CPU
Before we look at the individual motherboards that are worth your buck today, let's quickly look at a few things you should consider before getting a good gaming motherboard.
Tips for Choosing the Best Gaming Motherboard
If you consider a CPU as the computer's brain, then a motherboard can be defined as the central nervous system or heart. It works by relaying computing information across all the computer's internal components, acting as the primary hub where all components like CPU, CPU Coolers, graphic cards, and RAM connect. Some of the critical considerations when choosing your gaming motherboard are things like compatibility, reliability, quality, feature list (both for now and for future upgrades) and also value for money.
Check the RAM Compatibility
You must ensure that the gaming motherboard you choose is compatible with your Random Access Memory sticks. Here are four key things to consider:
RAM Type – You have two choices when selecting RAM nowadays; either DDR3 or the latest DDR4, which is slightly faster. A gaming motherboard can only support one type of RAM, so a DDR3 RAM will just fit in a DDR3 motherboard.
RAM Capacity – It is also essential to check the maximum RAM capacity of your gaming motherboard. For extreme performance, you can aim for anywhere between 32GB and 128GB.
RAM Speed – Besides ensuring your gaming motherboard can support your RAM type, you should also confirm that it can handle the specific RAM speed. Thus, if you have a 2133 Mhz RAM, then your motherboard should support that particular RAM speed.
Available RAM slots – The number of RAM slots is also an essential factor. If a motherboard comes with only two slots, then it limits your upgrade options in the future.
Form Factor/Motherboard Size
There are different sizes of gaming motherboards, technically called form factors. The form factor you choose will affect the case, so you must be mindful of this fact. The two primary sizes you will come across in your search for gaming motherboards include ATX and micro ATX boards. ATX motherboards are full sized boards that will fit most large PC cases. However, the micro ATX boards are still great options for those looking to build a budget-friendly and small gaming system.
USB Ports
You should think about how many USB ports you need and then make sure that the gaming motherboard has enough ports. However, this is rarely an issue since modern motherboards feature many USB ports. Most importantly, check for USB 3.0 support as it has higher data transfer speeds than USB 2.0 ports.
Expansion Slots
If you are going to be upgrading your gaming build after a few months or adding some cards, like a network card, sound card, graphics card, etc., then you will need to confirm that your board has sufficient expansion slots like PCI-E and PCI ports. A board with enough expansion slots will be beneficial if you plan to use more than two graphics card, mainly for SLI gaming or if you want to do a bit of cryptocurrency mining.
Networking Requirements
With most modern games featuring online gameplay, you must also check that the motherboard you buy features the latest networking needs. All gaming motherboards come with the traditional LAN support, but others will offer built-in Wi-Fi support. Nevertheless, you can always add a Wi-Fi adapter in the form of a PCI card or a USB wireless dongle to your PC to get a fast and reliable Wi-Fi connection.
CrossFire and SLI support
If you intend to use a high-performance dual graphics setup using either AMD CrossFire or NVidia SLI technology, then your gaming motherboard must support this feature. Check the specification list to confirm if the board allows two graphics cards or up to 4 graphics card depending on your needs.
Overall, when you want to buy a good gaming motherboard, your best option is to go with leading motherboard manufacturers like Gigabyte, ASRock, MSI, and ASUS. Read on and discover the top motherboards you can buy today for your Intel Core i7 CPU.
ASUS ROG MAXIMUS VIII Hero Gaming Motherboard For Intel Core i7 CPU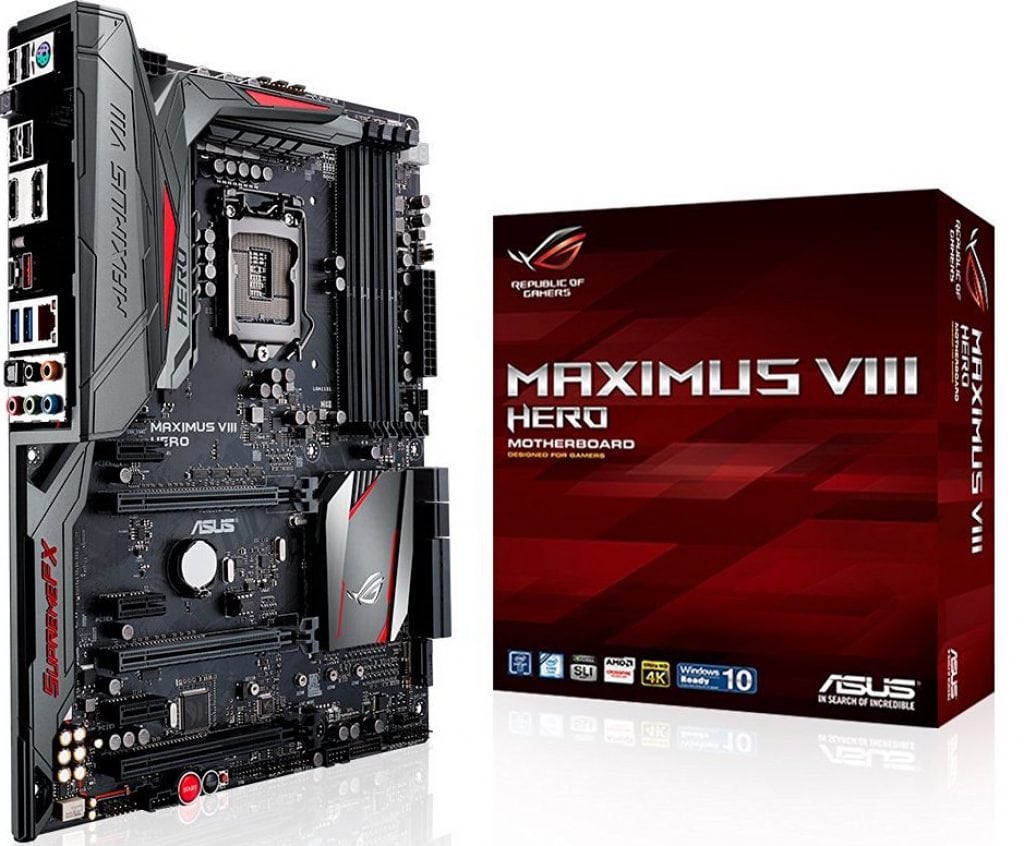 If you have never heard about the Republic of Gamer's range of ASUS, then you should know that it's the board of choice if you need high performance, more accessories and high-quality components. The ASUS ROG MAXIMUS VIII HERO follows the same design process like other boards in the ROG range, but with lots of new features. However, there is a slight difference in this board has ASUS decided to ditch the overused red color scheme and instead used a stunning grey color with simple red detailing.
Specs
• CPU Support – 6th Generation Intel Core i7, i5 and i3
Intel Chipset – Z170
RAM support – 4 DDR4 slots, 64GB maximum capacity and up to 3500MHz RAM speed
Discrete Graphics Cards – 4-way Crossfire/SLI
Storage – 1 M.2 Socket, 2 SATA Express, 6 SATA 6Gb/s
Expansion slots – 2 PCIe 3.0 x16, 3 PCIe 3.0 x1
Networking support – Intel I219V
USB – 2 USB 3.1 ports (Type A and Type C), 6 USB 3.0 ports and 8 USB2.0 ports
Audio – ROG SupremeFX
Form Factor – ATX motherboard 305 X 244 mm
Overclockable motherboard
Customizable RGB lighting
Comes with a cloth and silicone gaming mouse pad that is water resistant
The ASUS ROG MAXIMUS VIII HERO has some of the best overclocking abilities you can find in gaming motherboards. It can handle both CPU and memory overclocks up to 4.8GHz and 3600MHz respectively. ASUS has even included a few OC profiles, which further sweetens the deal.
The ROG SupremeFX Audio has been upgraded in this particular motherboard along with other enhancements made to the Realtek Codec. The result is better quality sound output regardless of which sound device you use. The fan control is also notable as it allows users to manage various aspects of the fan, as well as making all ports DC mode and PWM capable.
This ROG motherboard is likely one of the best-looking motherboards with simple and elegant looks. The custom heatsinks look great, and the design surrounding the audio also adds a layer of appeal. The ROG symbol and RGB lighting also make this motherboard very appealing for a wall-mounted PC.
The ASUS ROG MAXIMUS VIII HERO is a meaningful investment that looks great, has an excellent balance of high-quality features and overclocks well. The BIOS is stable, and there are easy-to-follow guidelines to overclock and get the best out of your Intel Core i7 processor. Even the most CPU and graphically intensive games and programs will be a breeze on this motherboard, which makes it a solid buy.
Gigabyte ATX DDR4 Intel LGA 1151 SATA E (6Gbit/s) Ultra Gaming Motherboard For Intel Core i7 CPU
The Gigabyte ATX Z170x is a premium motherboard with some excellent features to offer gamers. Let us see some of its key specs and a brief review of how it performs when paired with Intel Skylake CPUs.
Specs
• CPU Support – Intel Core i7, i5, and i3 as well as LGA1151Pentium and Celeron processors
Intel Chipset – Z170A
RAM support – 4 DDR4 slots, 64GB maximum capacity and up to 3666MHz RAM speed
Discrete Graphics Cards – 3-way Crossfire/SLI
Storage – 2 M.2 Socket, 3 SATA Express, 6 SATA 6Gb/s, RAID support
Expansion slots – 1 PCIEX16,1 PCIEX8, 1 PCIEX4, 3 PCI-E slots
Networking support – Intel® GbE LAN
USB – 2 USB 3.1 ports, 5 USB 3.0 ports and 12 USB2.0 ports
Audio – Creative Sound Core3D with Stereo and Surround (5.1) support
Form Factor – ATX motherboard 12″ x 9.6″
The GA-Z170X-Gaming seven comes with all the latest technologies you would expect from a high-quality platform. It features USB3.1, metal shielding surrounding the PCIe slots, dual M.2 storage slots up to 32Gbps and also SATA Express slots. Furthermore, this motherboard has a robust power delivery capability to allow seamless overclocking. Coupling all that with a vibrant appearance that will suit most gaming themes, especially the customizable RGB LEDs, then you get a pretty impressive gaming board.
Going in a bit deeper, you find that this Gigabyte motherboard can completely maximize your Intel Core i7 chip. You can overclock from stock to 4.9GHz using comfortable voltages that will not put your processor or motherboard at risk. Both professionals and beginners should have an easier time overclocking with the straightforward BIOS settings offered here. Regarding motherboard comparison, this Gigabyte board performs similarly and even better than the higher priced MSI Z170 Gaming M7.
See Also: Best RAM For Gaming: Top DDR4 And DDR3 RAM Reviews
ASUS Z170-PRO ATX DDR4 NA Motherboard For Gaming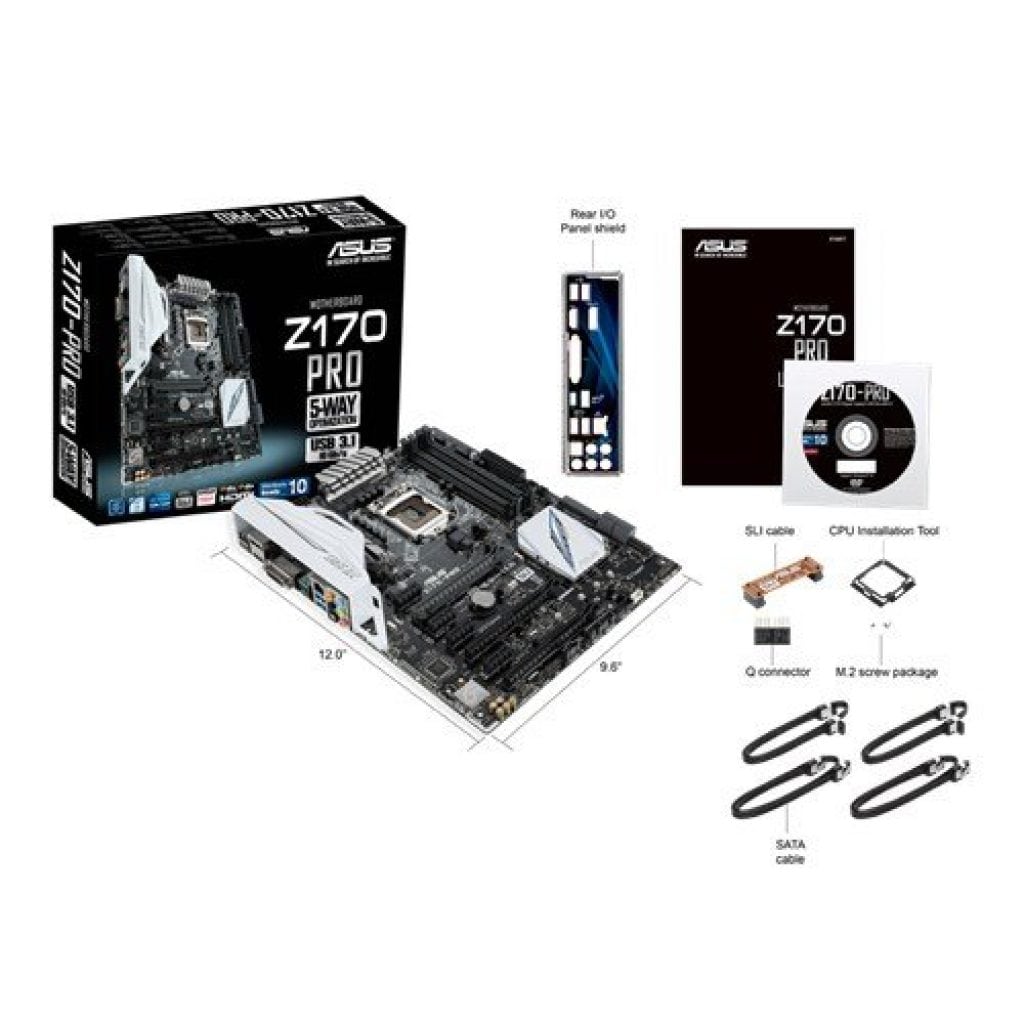 The main characteristics of a decent gaming motherboard, besides a reasonable price, include high performance, networking and also an aggressive style. ASUS has created a powerhouse motherboard that ticks all these boxes with their Z170-PRO ATX motherboard. Meant for all Intel Skylake processors, this motherboard supports fast M.2 storage, DDR4 RAM, SATA Express, USB 3.1 and also overclocking capabilities.
Specs
• CPU Support – Intel Socket 1151 for the 6th Gen Core i7, i5, i3, Pentium and Celeron processors
Intel Chipset – Z170
RAM support – 4 DDR4 slots, 64GB maximum capacity and up to 3866MHz RAM speed
Discrete Graphics Cards – 3-way Crossfire/SLI
Storage – 1 M.2 Socket, 1 SATA Express, 6 SATA 6Gb/s
Expansion slots – 2 PCIEX16, 1 PCIEX4, 4 PCI-E 2.0 x1 slots
Networking support – Intel I219V
USB – 2 USB 3.1 ports, 6 USB 3.0 ports and 6 USB2.0 ports
Audio – Realtek® ALC1150 8-Channel HD Audio
Form Factor – ATX motherboard 30.5 cm x 24.4 cm
Thanks to the use of Crystal Sound 3 technology, this motherboard delivers perfect audio, which further enhances the immersive-ness during the game. The onboard USB 3.1 ability allows for fast data transfer speeds that are twice the capacity of USB 3.0. Combined with SATA Express and M.2, installing games or moving files around your PC will occur in seconds.
ASUS is known for their user-friendly BIOS configuration, and the Z170-PRO doesn't disappoint in this regard. Experienced overclockers should be able to get the i7-67000k up to 4.8GHz using just a voltage bump and modifier. Remember that Skylake CPUs will need some decent cooling when upping the voltage. Overall, this is an excellent motherboard with plenty of features for all gamers.
MSI Intel Z97 LGA 1150 DDR3 USB 3.0 ATX Gaming Motherboard For Intel Core i7 CPU
Last but not the least, is the MSI Z97 motherboard that is designed for gamers who do not necessarily need the overclocking features but are still interested in high-performance output.
Specs
• CPU Support – 4th to 5th Intel Core i7, i5, i3, Pentium and Celeron Processor on LGA 1150 Socket
Intel Chipset – Z97
RAM support – 4 DDR3 slots, 32GB maximum capacity and up to 3200MHz RAM speed
Integrated Graphics – Dependent on the CPU installed
Storage – 1 M.2 port, 6 SATA 6Gb/s
Expansion slots – 3 PCIEX16, 4 PCI-E 2.0 x1 slots
Networking support – Killer E2205 Gigabit LAN
USB – 6 USB 3.0 ports and 8 USB2.0 ports
Audio – Realtek ALC1150 HD Audio CODEC
Form Factor – ATX motherboard 305 mm x 244 mm
Style has been a crucial focus point for MSI motherboards over the last year. MSI wants users to show off their motherboards rather than hide them inside a case. The Z97 Gaming 5 is targeted towards budget-friendly gamers who are making a Haswell build but still want the full-sized ATX motherboard.
Regarding gaming features, online gameplay is achieved with the Killer E2205 LAN port that comes with app prioritization software along with a better sound thanks to Realtek's Audio Boost. The motherboard also supports M.2 storage for super-fast game load time. Stock performance is excellent, and you can get some superb CPU results because of MSI's MultiCore Turbo.
The layout and design are straightforward, with all connectors and headers conveniently located around the edges for cleaner cabling. There are also sufficient fan connectors for creating a decent cooling setup. Short of dropping in a few game codes, this MSI motherboard is a remarkable foundation for a robust gaming system at an affordable price.
Check Price on Newegg
All the gaming motherboards featured here are capable of pushing your Intel Core i7 CPU far beyond its usual limits of performance. The outcome is better frames per seconds in all games, faster load times and smoother overall gameplay. In closing, ensure you read all the motherboard specifications before buying to guarantee that the board fits your needs and other PC components you may have.
Sources: