When you want the best gaming experience, bigger is always better. That is why many gaming purists prefer using a desktop PC, particularly if they are after the high-performance components and features needed to run the latest triple-A titles smoothly. But thanks to strides we've taken in electronic engineering, especially in heat dissipation and semiconductor technology, some beastly gaming laptops now support full-power graphics and processors, therefore, getting the top features embodied in the best 17 inch laptop for gaming offers a complete gaming experience, whether on the go or at home.
The best 17 inch laptops for gaming:
Below are the top recommended 17-inch laptops currently on the market. You can also read what to look out for (part of what we considered) before getting a good 17-inch laptop below these top laptop recommendations at the end of this review.
Acer Predator 17-inch Gaming Laptop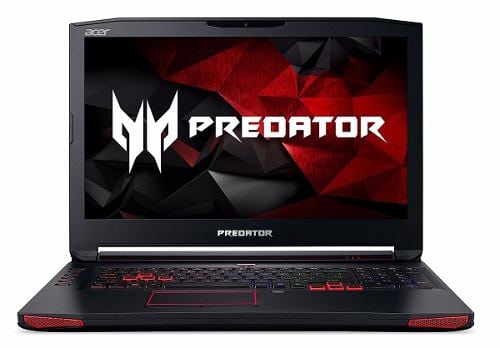 The Acer Predator 17″ gaming laptop lives up to its mighty name. It is sturdy and massive, with stellar speakers and a great keyboard. Even if its GTX 980 chip may seem a bit dated in the world of GTX 1080 laptops, it still packs enough of a punch to plow through modern games at high settings.
Key Specs
Processor: Intel Core i7-6820HK 2.7GHz Quad Core Processor with 3.6GHz Turbo Boost
Display: 17.3" UHD, NVIDIA G-Sync, 3840 x 2160
Graphics: NVIDIA GeForce GTX 980, 8GB GDDR5
Storage: 512GB SSD and 1TB SATA Hard Disk
RAM: 32GB DDR4
8-cell 6000 mAh Li-ion Battery – 3 hours
This Acer gaming laptop has a beautiful UHD screen that gets quite bright. It also comes with no bloatware installed and it runs very quietly. Since it has a brand new Thunderbolt 3 port, you can always upgrade the graphics card in the future to enhance the gaming performance. Overall, this Acer Predator 17 gaming laptop offers immense quality with a freakishly unique style and design.
ASUS ROG G752VS-XS74K OC Edition 17 Inch Gaming Laptop
This gaming laptop from ASUS can be instantly recognized as something special. It looks great and performs even better if you want a rig that can give you VR gaming, drive a 4K display and do some video editing. The chassis is well made and the screen, though quite large, does not jiggle around once set in place.
Key Specs
Processor: Intel Core i7-7820HK
Display: 17.3" FHD, NVIDIA G-Sync, 1920×1080, 120 Hz
Graphics: NVIDIA GTX 1070, 8GB GDDR5
Storage: 512GB SSD and 1TB SATA Hard Disk
RAM: 16GB DDR4
8-cell 88WHrs Li-ion Battery
Windows 10
Provided you do not mind carrying the extra weight, this ASUS ROG G752VS-XS74K OC Edition Gaming Laptop is an excellent purchase. There is nothing slim or sleek about this machine. And it doesn't have to be based on the fact that it is an absolute beast. Whether you want to play virtual reality games or any other modern games, this machine has an overclockable processor and quality GPU to get the job done.
CUK MSI GE72VR VR Ready 17 Inch Laptop for Gaming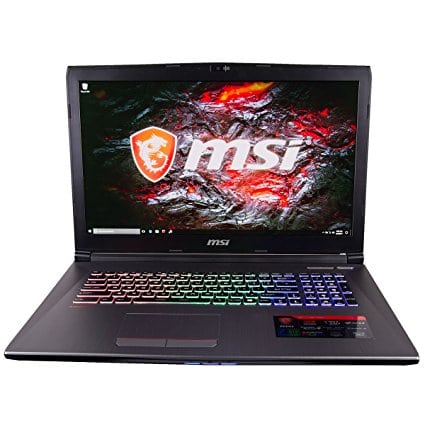 Marketed as a VR ready machine, this gaming laptop can give you over 100FPS with ultra-settings on modern titles like the latest Tomb Raider thanks to the GTX 1060 chip inside it. Additionally, it can also be used for audio and video production, giving you more processing power when using demanding apps like Adobe Premier, After Effects and Pro Tools.
Key Specs
Processor: Intel i7-7700HQ 2.8GHz-3.8GHz Quad Core Processor
Display: 17.3" FHD, NVIDIA G-Sync, 1920×1080, 120 Hz
Graphics: NVIDIA GTX 1060, 6GB GDDR5
Storage: 128GB SSD and 1TB SATA Hard Disk
RAM: 16GB DDR4
8-cell 88WHrs Li-ion Battery
Windows 10
The Intel i7-7700HQ with four physical cores and eight threads deliver sufficient power for gaming at ultra or maximum settings. It also supports seamless multitasking while consuming less power due to the highly efficient architecture. The desktop-grade GTX 1060 supports NVIDIA G-Synch and is also VR-ready. You also get fast SSD storage and a large 1TB hard disk for mass storage. With programmable keys, backlit keyboard, and an efficient cooling system, this MSI laptop will suit any gamer.
Gigabyte P57Xv7-KL3K3 17 inch Laptop for Gaming
There have not been too many changes since the P57X v6 was released as it shares similar features with this newer v7 from Gigabyte. Some of the similarities include plastic cases, ports, internal components and board layouts. The most prominent change that the P57Xv7-KL3K3 offers is its better Core i7-7700HQ processor, higher resolution, faster RAM and a more top quality 4K screen.
Key Specs
Processor: Intel Kabylake i7-7700HQ
Display: 17.3" QHD, 2560×1440, 120Hz
Graphics: NVIDIA GeForce GTX 1070, 8GB GDDR5
Storage: 256GB SSD and 1TB SATA Hard Disk
RAM: 16GB DDR4
Windows 10
There is a much better visual experience in the Gigabyte P57Xv7-KL3K3 with better brightness, resolution and color coverage thanks to a significantly improved 4K panel. However, the upgraded CPU, GPU, RAM size and display means that battery life has been dramatically affected.
Still, it is a gaming laptop so you should not be expecting a great battery. Overall, this Gigabyte laptop handles complex modern games effortlessly with fast response times and the ability for upgrades and expansion for gamers interested in making some customization.
Eluktronics N870HK1 Pro Premium 17-inch Gaming Laptop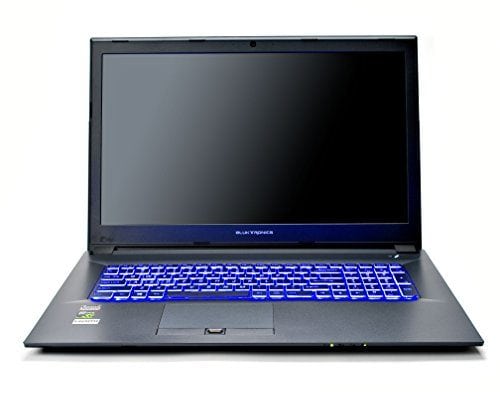 Although it may come from a relatively unknown company, this gaming laptop just outperforms its specifications. You would be forgiven to think that you are running a GTX 1070 inside rather than the 4GB 1050 Ti included. The machine can handle all games at ultra-settings, delivering consistent frame rates over 100FPS.
Key Specs
Processor Intel Core i7-7700HQ
Display: 17.3" FHD, NVIDIA G-Sync, 1920×1080
Graphics: NVIDIA GeForce GTX 1050 Ti, 4GB GDDR5
Storage: 512GB SSD
RAM: 16GB DDR4
Windows 10
Compared to other gaming laptops on this list, this Eluktronics N870HK1 Pro Premium Gaming Laptop has a much smaller storage. However, that can be fixed easily and should not prevent you from seriously considering this system.
It comes with a clean installation of Windows 10 with no unnecessary bloatware, which means super fast boot times. The fans can get loud during gaming, but during daily use the machine is silent. All in all, this small company has outdone itself with this gaming laptop, and it is unquestionably worth checking out.
Alienware 17 ANW17-2136SLV 17 Inch Laptop for Gaming
Dell's Alienware range is targeted towards the gaming community. The Alienware 17 ANW17-2136SLV is one of their affordable models with a 4th generation Intel Core i7 4710 processor that is still adequate for gaming today. The laptop has a futuristic appearance thanks to the unique Alienware logo and metallic finishes.
Key Specs
Processor: Intel Core i7-4710HQ
Display: 17.3" FHD, Anti-Glare, 1920×1080
Graphics: NVIDIA GeForce GTX 970M, 3GB GDDR5
Storage: 1TB SATA Hard Disk
RAM: 8GB DDR3
Battery: 8 Cell 92W Hour Battery
Windows 8.1
For 1080p gaming, the NVIDIA GeForce GTX 970M and 8GB RAM help this Alienware 17 ANW17-2136SLV deliver a smooth, playable experience. However, challenging games like Metro: Last Light suffer from low frame rates due to the smaller end components as compared to other laptops on this list. Nevertheless, if you avoid the high settings on demanding games like Battlefield 4, you should be able to enjoy your games without any problems. This Alienware 17 wins with regards to practicality when compared to its more massive Alienware 18 counterpart as it crams similar performance and features into a lighter and thinner body.
What to Look out for in a good 17 inch laptop for Gaming
1. Price Considerations
Even though technology changes rapidly, the top level tech products always seem to be quite costly. That is also truer with regards to laptops than desktops because it costs a lot more to build smaller components for laptops. The result is that you could easily spend up to $3,000 for a high-end gaming laptop while entry-level laptops usually start at around $800.
For guaranteed smooth and high definition gameplay, either at 1080p or 4K resolution with maxed out graphics details, it is best to go for high-end gaming laptops. Most of these laptops will have virtual reality support and add faster components like SSDs, dual graphics capabilities, support extra monitors and more efficient cooling systems. The price of your gaming laptop will be directly proportional to the gaming quality and performance.
2. Graphics are Very Important
Do you want to know the secret to choosing the perfect gaming laptop? The most critical feature that can either make or break your gaming performance is the GPU or graphics processing unit. Currently, Nvidia dominates this field with top quality discrete graphics cards based on the 10-series Pascal architecture, which provides similar performance to desktop-grade graphics. AMD is yet to release a mobile version of its brand new Polaris GPU, which means that gaming laptops with AMD graphics are using outdated technology at the moment.
With that in mind, there are some necessary conclusions you should consider regarding graphics performance in a gaming laptop. Aim for higher-product numbers within a particular product line to get better 3D performance. For example, a notebook with Nvidia GeForce GTX 1080 will produce better quality graphics with higher frame rates as compared to the Nvidia GeForce GTX 1050. Furthermore, look out for AMD FreeSync and Nvidia G-Sync technologies as they help to deliver smoother frame rates and boost game quality.
3. Selecting a Processor
For your gaming laptop, you'll need to choose a powerful processor. Luckily, most of the gaming laptops today feature quad-core Intel Core i7 or i5 CPUs, which is sufficient for modern games. Notebooks with an Intel Core i3 CPU can be compared with entry-level processors from AMD. It is probably best not to limit yourself and go for the most powerful processor you can get.
The only instance where it would be advisable to get an i5 instead of an i7 is if the extra money saved will be used towards getting a better GPU, say a GTX 1080 over a GTX 1070. AMD's latest Ryzen processors show lots of promise in the desktop field, but there are no laptop versions at this time.
4. Display Size
Larger display sizes can give you higher resolution and also fit more details into the picture. Remember that by choosing a 17inch display you are giving up a bit of portability since gaming laptops are known for being quite heavy. Ensure that the screen you select can at least give you 1920×1080, for full HD, or 3200×1800, for QHD. If you have a bigger wallet, then consider a 4k display (3840×2160), which will also demand a powerful graphics processor to be able to deliver smooth gameplay.
5. Hard Drive
Considerations For your hard disk, go with a laptop that has a solid state drive or SSD. Not only have SSD prices fallen significantly over the last few years but they also speed up your system's boot time and even your game launch time. There are plenty of configuration options to allow you to fit an SSD into your gaming machine. For instance, you can retain a 1TB mechanical hard drive to store your downloads and other files, while the OS and game installations can be done on a 128GB SSD. Large capacity SSDs are available (up to 1TB), but they can increase the laptop price significantly.
6. Get as Much Memory as Possible
The least amount of memory that your gaming laptop should have is 8GB. The big and highly demanding games like The Division, Hitman, Quantum Break and The Witcher 3 among others usually recommend an 8GB minimum of RAM. However, for future-proofing your laptop, aim for 16GB of RAM. It will enable you to have multiple gaming sessions opened, video streaming, several websites, a messaging app and even your webcam software on at the same time. The good thing is that RAM is pretty affordable, so if you want a high-performance rig, it is easy to get 16GB.
7. Other Considerations
Since gaming laptops have high powered components, they tend to have little battery lives in general. Ensure you don't stray far away from your wall socket, mainly to get the most out of your CPU and GPU. It is also worth having innovative ports like Thunderbolt 3 and USB-C for future-proofing, but also check that it has a couple of USB 3.0 ports. Other common video ports like Display Port and HDMI are helpful for connecting to additional screens but are not necessary if your laptop already has a 17 inch display.
Conclusion
When it comes to buying gaming laptops, aim for a powerful CPU and GPU for guaranteed exceptional gaming performance. Since it is not as easy to upgrade laptops as compared to desktops, getting the best quality right from the start will mean that your gaming rig will remain relevant for the next few years. So, choose wisely from any of the above options, and you'll have yourself an exceptional, portable and powerful gaming system.
Sources: